Remaining teams (in order of Dogleg 9 finish):
Bella and Douglas (Former Presidential Candidates/ARI Winners)
Quincy and Taffy (Golden Retriever Brother and Sister)
Hercules and Maxx (New York City Police Dogs)
Keo and June (Chicago Chimpanzee Father and Daughter)
Heidi and Depot (Tennessee Cocker Spaniel and Cat)
The Amanxing Race 2: Going to the Dogs
DOGLEG 10: Stomping Grounds
One hour after arriving at the Forbidden City pet stop, the Amanxing Racers are ready to leave again! Fortunately, they are required to spend twelve hours resting, eating, and relaxing in Beijing.
Bella finds a mouse that must be descended from Pu Yi's pet, and she, Douglas, and Depot play with him. Jackie Chan, a good sport, sticks around and demonstrates the martial arts techniques that made him a star, including the fine art of balance. Maxx shows him how police dogs catch people. Depot decides to show him how much better cats are at balancing than people are.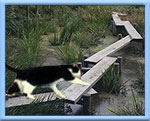 Depot demonstrates his agility to Jackie Chan
What do you think of all this, Koko? "Koko love race. Black white bears back! Chicken in square. Yellow dogs, brown dogs, All Ball cat, black cats, fine animals chimps. Koko think All Ball cat win. Koko love chimps."
All Ball cat and black cat (Bella and Douglas) are the first to leave the pet stop. They receive their clue: to fly to Tokyo, Japan, and go to the Koishikawa Korakuen garden. Both seem excited - they remember going here last time and are already familiar with the city. They get on a flight with the two dog pairs, while Heidi and Depot and the chimps catch the next flight three hours later.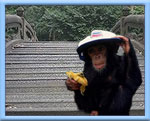 June takes a banana break at Korakuen Garden
When the three leading pairs arrive in Tokyo, Bella and Douglas know exactly where to go. A cab chase through the streets of Tokyo ensues. The defending champs run straight to the park and find a familiar setup: five small scale models of Tokyo.
Since this segment was so popular in the Amanxing Race I, the producers decided to bring it back again. Each pair must walk through the model of Tokyo, destroying buildings, roaring, and pretending to fight, and will then receive the next clue from the cameraman. This time, however, it turns into a full-scale Monster Island battle, as Bellzilla, Quincera, Maxxthra, Taffugon, Mechadougzilla, and Herculoid stomp, growl, bite buildings, and pretend to spit fire. Phil Kiwi is giggling hysterically, as are the surprise guests: Hedley and McClurg from the Amanxing Race I, stars of the hit Japanese anime show Skunkemon.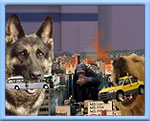 Maxthra, Juneagon and Quincera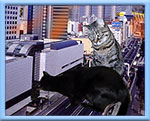 Mechadougzilla and Bellzilla destroy "Tokyo"
Bella and Douglas only have a few minutes to visit with their old friends, as they receive their next clue: to take the Bullet Train to the city of Akita and look for their next clue at the Akita station.
The second plane has landed in Tokyo, and Keo and June enjoy their movie skit even though there isn't a small Empire State Building for them to climb up. But what's going on at the airport? Heidi is in the taxi, but where is Depot? She starts barking hysterically. The driver is looking for him on the sidewalk. Depot? Depot? Where are you?
The minutes tick by. A half-hour goes by. The cab driver decides to pull away, despite the loud barking of Heidi. Wait! People are pointing and yelling for the driver to stop. Depot is riding on the top of the cab! He wanted to get some sunshine. Depot finally gets back in, but his team has lost some time.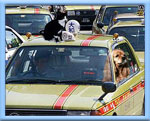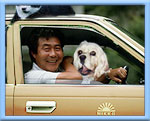 Heidi searches for Depot, unaware he's nearby
King Keo and June Kong have caught up with the other pairs at the Tokyo train station, but as the first Bullet Train leaves, Heidi and Depot are not on it. All four pairs, along with Hedley and McClurg, who are tagging along, enjoy the views of Mount Fuji and of the Japanese countryside from the train. The dogs have to be reminded not to ride with their heads out the windows.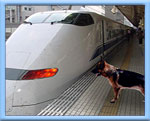 Hercules waits while Maxx gets tickets for the Bullet Train
The Bullet Train arrives in Akita, and the teams receive their clues: to go directly to Senshu Park, their Pet Stop for the night. The skunks get delayed by fans seeking autographs, so Bella and Douglas head on without them, but they're behind the two dog pairs.
Hercules and Maxx are the first to arrive at Senshu Park, where they are greeted by Emperor Akihito and Empress Michiko and an Akita dog, who gets a little upset when Maxx and Quincy try to share his food. The cats and chimps arrive.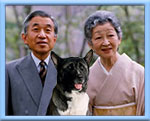 Emperor Akihito and Empress Michiko, with an Akita, welcome the Racers
The Emperor of Japan has the sad task of informing Heidi and Depot that they are the last to arrive in Akita and thus are eliminated from the Amanxing Race. He bows to them as they bow out. Next time, on the Amanxing Race:
Next, on The Amanxing Race: Viva los gatos, viva los perros, viva, viva el Amanxing Race. This is no time for siesta, Bella, this is time for fun. A fox is sighted, but it's not Sanford or Banjo. Who will be the Desert Rose, and which amigos will we have to say adios to?